Note: this might possibly be Suzune Miyashita, it is difficult to tell since she is seen in modern versus the episode 26 flashback.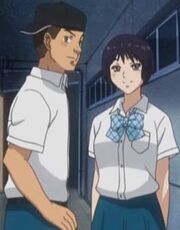 Musashino's manager has close-cropped brown hair and an antennae.
Amongst the members of Musashino, there's a guy with a baseball cap worn backwards and a goatee who conferences closely with her.
Ad blocker interference detected!
Wikia is a free-to-use site that makes money from advertising. We have a modified experience for viewers using ad blockers

Wikia is not accessible if you've made further modifications. Remove the custom ad blocker rule(s) and the page will load as expected.