Maria Momoe
Talk

0
163pages on
this wiki
Maria Momoe
Title
Name
Maria Momoe
Kanji
百枝 まりあ
Romaji
Momoe Maria
Characteristics
Gender
Female
Birthday
April 18
Height
163cm
Blood Type
O
Status Information
School
Nishiura High School
Club
Baseball club
Family
Grandmother, parents, younger brother
Position
coach
Bats/Throws
Left/Left
Debut
Anime
The Real Ace
Manga
Chapter 1
Voice Actors/Seiyuu
English
Cynthia Cranz
Japanese
Risa Hayamizu
Maria Momoe (百枝 まりあ, Momoe Maria) (often called Momo-kan (short for Momoe-kantoku (Coach Momoe in English)) or Momoe-san) is the coach of Nishiura's baseball team.
Background
Edit
She was part of the rubberball/softball generation at Nishiura. She loves everything about baseball, to the point that she willingly spends all of the money she saved from her part time jobs on the baseball team. As a result, the team usually feels bad that she tries so hard for them when they are trying so hard for themselves.
In high school, she was the manager of the softball team, and took part in all of their practices. As a result, she is a highly skilled player, and very good at leading her team both in practices and when sending signs during games.
She has a dog, Ai-chan, who is thought to be a mixture of a corgi and a Shiba Inu. Chiyo often looks after Ai while Maria is coaching.
She drives a motorcycle and works in physically demanding jobs such as cleaning the windows of skyscrapers.
Appearance
Edit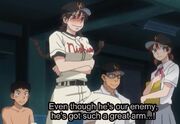 She is noted to be highly attractive, especially by opposing team members. She has a pretty face and an impressive bosom, which sometimes embarrasses every boy who looks at her. It is implied that several players, from Nishiura and other teams, have a crush on her, most notably Azusa Hanai. All of Nishiura's team members were surprised to learn that Momoe is only 23 years old. Hanai counts the 7 year difference between them and wonders if that is the 'limit' possible, before instantly berating himself for thinking of having a relationship with her.
Personality
Edit
The team is very fond of her, although they often find her scary. She has amazing physical strength, being able to completely crush oranges with her bare hands (she uses this method to make juice for the team). She also uses this iron grip to punish her charges, namely Mihashi, Abe, and Tajima, by squeezing their heads.
Relationship
Edit
Main Artice: Maria Momoe/Gallery